What is Data Cloud in Marketing ?
Data Cloud (formerly known as Salesforce Customer Data Platform or CDP) helps companies unify customer data from any source—including sales, service, marketing, loyalty, and commerce—and build a single source of truth that can be used for powerful marketing, advertising, marketing campaigns, personalization, and analytics use cases that grow relationships and revenue.
The Data Cloud will leverage the first-party data that can further be improved with third-party data. It offers centralized solutions, which aid the business in storing user data in a single place. Moreover, you can access customer data and information and implement personalized or customized strategies for marketing in multiple channels.
What are the benefits of Data Cloud?
Activate data so it becomes available to personalize customer experiences in real time.
To resolve customer identities to understand who they are and deliver personalized experiences across every channel, including email.
Pull insights from data so you can track customer journeys, segment customers into groups, create lookalike audiences and personas, and reach new audiences.
This typically leads to better marketing KPIs such as higher conversion rates, better ROI from marketing spending, and an increase in revenue from marketing and sales opportunities.
Greater segmentation capabilities also allow companies to gain campaign performance insights and how optimize for better results, as it is the base for reporting.
What problems can Salesforce Data Cloud solve?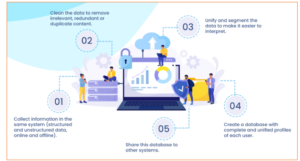 Resolve customer profiles across any device (cross-device identity resolution) with flexible matching rules and AI.
All systems, such as Commerce Cloud, Salesforce Marketing Cloud, Interaction Studio, Datorama, Service Cloud, and Loyalty Management, become fully accessible with the Salesforce Data Cloud. When your business is already using the Salesforce products, the Salesforce Data Cloud can be used as a "native connector," which integrates without pre-coding.
Track consent and manage preferences to engage more customers with trust.
Connect the platform with Marketing Cloud Intelligence and other analytics tools to optimize marketing spend.
Besides enhancing existing marketing campaigns, it also enables organizations to discover new audience segments, to broaden their reach with targeted actions.