An efficient technique for creating top-notch content that satisfies the needs of your target markets and promotes long-lasting relationships with clients is inbound marketing. Your clients stick with you because you assist them in finding answers to their problems. The core of inbound marketing is giving your target audiences the solutions they need. These solutions could come in the form of different types of content that are published across all of your channels and are designed to engage potential buyers at different stages of the buying cycle.
Inbound marketing is successful because it is always centred on what the customer wants and is looking for. It's more crucial to be available and ready when customers are searching for the goods or services you provide than it is to try to push your brand in their faces. Your inbound marketing plan will be successful if you provide top-notch content that your target audience finds engaging.
It's important to keep in mind that inbound marketing frequently falls short of expectations when used as your primary strategy. The key to an effective inbound marketing strategy is producing excellent content that can also be distributed through outbound tactics. When you have a library of engaging and pertinent content available across all of your channels, your audience will be able to find it through search, and you can advertise it if you need to.
How can Salesforce Marketing Automation be utilised for Inbound Marketing?
Inbound marketing considerably facilitates customer involvement that leads to buyer journeys and ongoing customer connections. If you create an engaging e-book, for example, your website visitors are more likely to give their contact information and develop into leads. Inbound marketing tactics and Salesforce marketing automation are extremely easily integrated to drive new leads and customers through the sales funnel.
With marketing automation, improving your inbound marketing plan is easy. You can automate your sales and marketing activities with the aid of Salesforce marketing automation, which will enable you to generate more leads, close more sales, and measure your marketing efforts with greater accuracy.
Although it doesn't immediately provide leads or move clients through the buying cycle, inbound marketing is a great way to increase brand recognition. Marketing automation, which also helps inbound marketing create engaged audiences, makes real conversions feasible.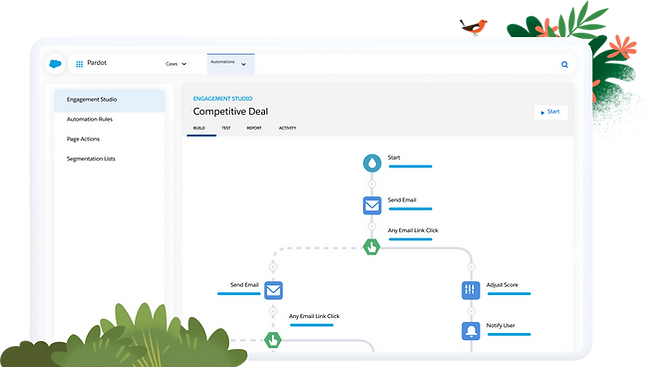 What are the Inbound Marketing Account-based Marketing Strategies?
Inbound marketing and account-based marketing (ABM) both place a strong emphasis on developing and personalising the customer experience. Inbound marketing initiatives can help your ABM strategy by providing your target accounts with extra content and engagement opportunities.
You can combine account-based marketing with inbound marketing in the manner shown below:
Repurposing Content
If you reuse your content for use in both your ABM and inbound marketing initiatives, its usefulness will rise.
Take notes on your data.
Your ABM efforts can profit from the knowledge you collect about the components of your inbound marketing initiatives that are successful and unsuccessful.
Find new accounts to target.
An opportunity exists for inbound marketing to provide new leads that may be used as ABM targets.
How to Benefit from Marketing Cloud Account Engagement
With the help of Marketing Cloud Account Engagement, sales and marketing teams can find and develop prospects, close more sales, boost ROI, and do other things. Here are several justifications for selecting us to assist with your inbound marketing plan: inbound advertising.
Salesforce, the best CRM in the world, is the foundation for creating content and gaining insights.
Value to Time
You may immediately deploy Marketing Cloud Account Engagement to start generating more leads and money.
Analytics for marketing
Use B2B Marketing Analytics to arrange and examine your sales and marketing data so you can make data-driven decisions.
Sales promotion
Automate sales processes and develop marketing-approved campaigns to give sales teams more time to clinch more deals.
Salesforce, the top CRM, may be leveraged in this way to increase income.
One of the top Salesforce consulting firms is Revolve. To SMBs, nonprofit organisations, and small enterprises, we provide superior Salesforce implementation, Salesforce integration, and Salesforce consulting services. Visit our website to learn more about us and contact us if you have any questions.